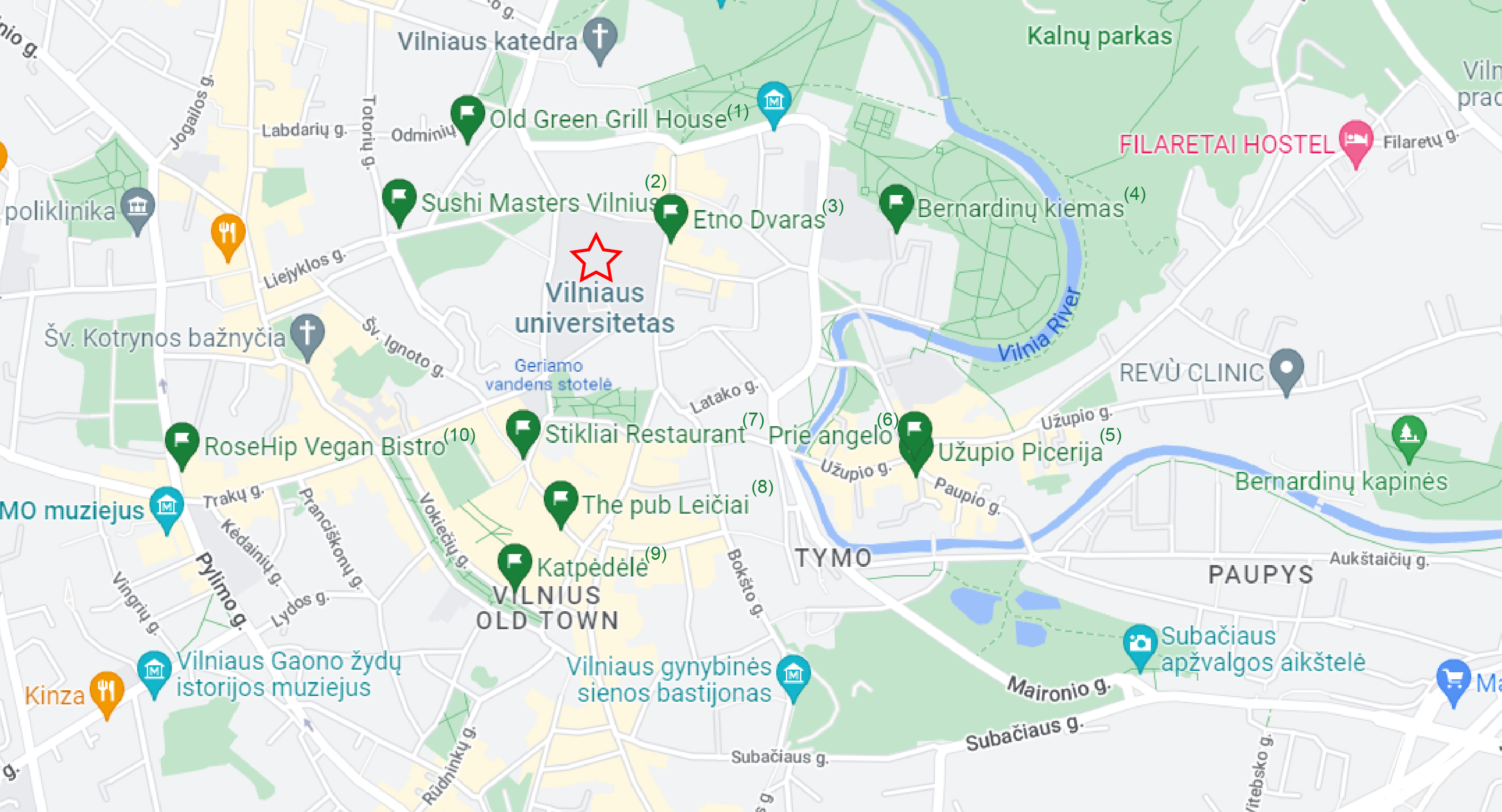 (1) "Old Green Grill House" is a unique, historical place. Serving barbecue, European cuisine and Lithuanian heritage dishes. Rediscover coziness in the heart of Vilnius.
(2) "Sushi Masters Vilnius" a place for high quality and tasty Japanese sushi.
(3) "Etno dvaras" has been consistently cherishing the Lithuanian traditions of the ethnic culinary art for 15 years already. It is the first restaurant in Lithuania, the dishes of which have been certified by the Lithuanian Culinary Heritage Fund.
(4) "Bernardinų kiemas" a place for delicious street food in the hearth of the city in "Bernardinai garden".
(5) "Užupio pizzeria" serves some of the best Italian style pizza in Vilnius, situated in the bohemian republic of "Užupis".
(6) "Prie Angelo" serves delicious and rustic traditional meals while also being situated in the bohemian republic of "Užupis".
(7) "Stikliai" are famous for their excellent food, service culture as well as amazing and pleasant atmosphere.
(8) "The Pub Leičiai" named after a now gone Baltic tribe serves delicious traditional Lithuanian dishes with their own locally made beer.
(9) "Katpėdėlė" situated in Vokiečių street in Vilnius is famous for the traditional and rustic Lithuanian dishes it serves.
(10) "RoseHip Vegan Bistro" is famous for the excellent and tasty vegan food it serves while also having a uniquely pink interior.